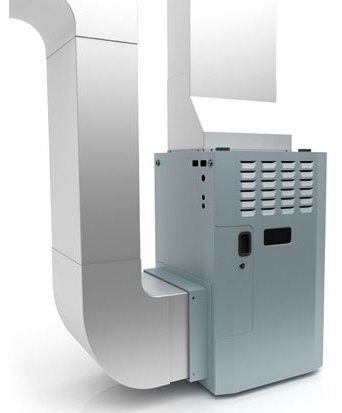 Water at the base of your furnace can be a cause for concern, but there are several possible reasons for water to be present that are not problematic. In any event, it is important for homeowners to know why they see water near their furnace so they can determine whether professional furnace repair is necessary.
High efficiency furnaces, which are furnaces with an Annual Fuel Utilization Efficiency (AFUE) rating greater than 90, have a cool exhaust system that produces condensation. Most homeowners don't know whether their furnace has an AFUE rating of 90 or higher, so one easy way to determine if yours does, simply look at the drain pipe that comes out of the furnace and empties to the drain. If it is made of PVC, then your furnace is likely a high efficiency furnace.
Another possible cause of water around the furnace pertains to the humidifier. Many furnaces have a built-in humidifier that is designed to add moisture to the air to prevent dryness in the home. If the humidifier isn't working properly, it could leak, which would result in a steady drip of water coming from the humidifier and landing on the ground.
Sometimes drainage pipes get clogged and prevent the condensation from properly emptying into the drain. It is fairly simple to disassemble the drainage pipe. Simply locate the pipe on the ground and see how it is attached to the furnace. It might just be threaded onto a fitting at the base of the furnace. In this case, turn the pipe at the base and remove it. Look inside, and if you see obstructions, clean the pipe out and replace the pipe to its original location.
While there are many valid and easy-to-fix causes of a water leak around your furnace, the presence of pooling water can also indicate a much more serious problem. If you reside in or around Union, New Jersey and are in need of expert assistance to determine the cause of your leak, The Jayson Company is at your service. Contact us today to schedule an appointment!